Bio: Dr. Stephen Gullo, Ph. D.
"A program for those who finally realize they are not destined to lose to a cookie, a chip, a chocolate, or a bagel ." - Dr. Gullo
Diets are not enough for your success
Dr. Gullo and you will create a structured and highly individualized eating plan to bring you to your goal quickly and safely. His powerful "Thinner Next Month" program is tailored to your unique food issues and taste preferences so you lose the pounds without the struggles of hunger and deprivation or the cravings that lead to binges.
Yet, diets are just a collection of words on a page. This is NOT "another diet program" but an entirely new model for your weight control based not only on nutritional advisement but the powerful tools of motivational psychology, habit psychology, and behavioral economics. He is the architect of the Behavioral Nutrition model for weight control and New York's only specialist in Behavioral Nutrition. The program is designed not just to change your "size" but to change the way you think about food and the failing eating habits of a lifetime that have created your problem. You should not come to Dr. Gullo just to lose weight ... but to end the problem!
When the New York Times ranked the leading weight control practices for their prestigious T-List, there was a consensus of just two names ... Dr. Gullo was honored to be one of the two. W Magazine put Dr. Gullo in first place on its list of "America's Leading Society Diet Doctors," Harper's Bazaar did the same for its list of the top celebrity diet doctors, and Bottom Line named him to their "Team of Giants" in the field of weight control.
Since beginning his practice decades ago, Dr.Stephen Gullo has gained worldwide acclaim for his pioneering approach to weight control. Dr. Gullo is a rarity in the field:  A man who understands the human psyche, and a man raised in the world of fine food; a weight loss expert who has served as an editor of a gourmet food and wine magazine and someone who took the lessons of his patients to heart and to his own issues with food. Dr. Gullo is the only diet doctor who has devoted his career to studying "the winners at weight control," those who lose weight and keep it off for a lifetime. He will teach you the "insider" strategies of the winners and the techniques that have enabled them to overcome the odds that have sabotaged so many. In addition, one of the major aspects of the program is the "Error Correction" techniques of the winners so you replace the syndrome of "I Blew It," wherein one error makes the entire day g0 downhill with the power of "I am in control!"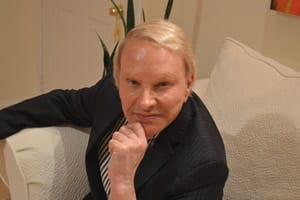 Dr. Gullo received his doctorate in psychology from Columbia University, where he was the Patterson Fellow in Psychology, and the president of Columbia served as one of his mentors. His doctoral research was supported by grants from the National Institutes of Health. For two decades he was a professor and researcher on the health sciences faculty at Columbia University Medical Center, and served as a Special Lecturer in the Postgraduate School of Medicine. He is the former Chair of the National Obesity and Weight Control Education Institute of the American Institute located at the Columbia University Medical Center. Upon stepping down from his position at Columbia, Dr. Gullo was honored by an international gathering of royalty, diplomats, colleagues, and patients held at the United Nations under the president of the UN General Assembly, and presented with the Schoenberg Award for "the development of unique and creative modes of weight control."
After completing his doctorate in psychology, Dr. Gullo did post-doctoral studies in nutrition at the Campbell Center for Nutrition at Corneil, and the Institute for Cancer Research, Columbia University Medical Center. His clients at the Center for Health Sciences have included the families of four presidents and members of five reigning royal families, Hollywood A-listers, dozens of CEOs, as well as members of the Boards of Trustees and administrations of all the major teaching hospitals in New York City. For weight control, he is the "doctors' doctor" since so many of his patients are internationally recognized physicians.
Dr. Gullo's first book for popular audiences, Thin Tastes Better, was a national bestseller, a fixture in USA Today's list of the top 100 books and alternative selection of the Literary Guild. People Magazine hailed Dr. Gullo's second book, The Thin
Commandments Diet, as one the "best diet books of the new year." USA Today called it a "book filled with practical ideas," and Web MD commended it for "preaching strategy, not prayer, as the path to lifelong weight control."
Dr. Gullo is a familiar figure on television, radio, print and digital media—he has been interviewed by Oprah Winfrey, Larry King, and Barbara Walters, and made numerous appearances on the Today Show, Good Morning America, ABC News, Fox News, Extra TV, and Hard Copy. Dr. Gullo has been the subject of dozens of magazine features, three New York Times cover stories, and many articles in the Chicago Tribune, Wall Street Journal, Allure, W Magazine, The New York Post, People Magazine, Women's Day, The New York Daily News and the Hollywood Reporter. He served as the diet doctor in NBC's Emmy Award-winning reality show "Starting Over."
Dr. Gullo's voice has reached millions of readers as a Contributing Editor for Self Magazine, a weight consultant to Allure Magazine, and most recently, as a member of the Editorial Advisory Board of Women's Health, the nation's leading fitness magazine for women.
If you wish to contact us
Tel: (212) 734-7200